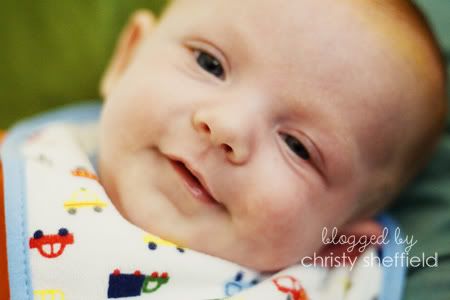 Happy Father's Day, Daddy! Love, Hugh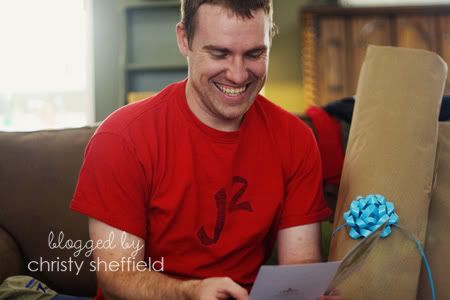 Laughing at his card.
This Father's Day was extremely important because it was Jason's first Father's Day as a daddy. That morning Jason opened his gift from Hugh. Part of his gift is money to go towards a pistol. But I wanted to get him something unexpected. I was going to get some accessories for his grill, but as I walking through Target I spotted the perfect gift - a hammock.
I couldn't wait for Jason to open it. When I saw the hammock, I pictured many lazy summer evenings spent there. I could see Jason and Hugh relaxing after swimming or playing in the yard.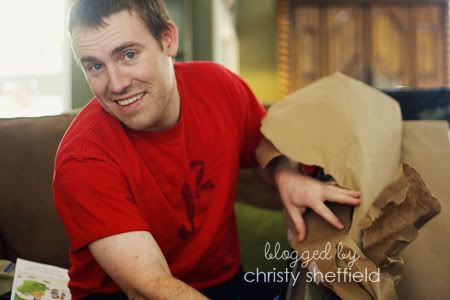 This gift was extremely heavy and hard to wrap. What could it be?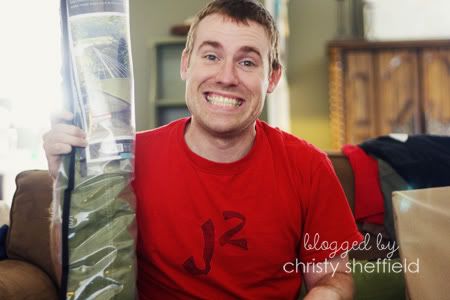 A hammock (and hammock stand)!
Then, we headed off to Beaumont to go to church at First Baptist Church (where all of Jason's side of the family goes). MiMi came with us. During the opening prayer, Hugh let out two huge burps. I'm not sure that he will be invited back, lol!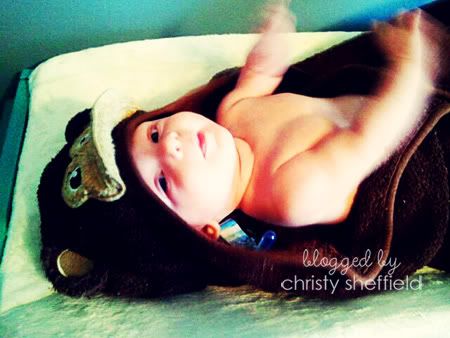 My little monkey!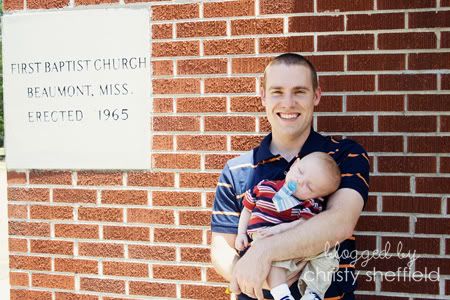 We enjoyed the service at FBC Beaumont. Except for Hugh. It put him to sleep, lol!
After church we headed to John and Skye's house for some smoked ribs, grilled pork chops and sausage, corn casserole, salad, baked beans, and rolls. Yum!
Yummy food.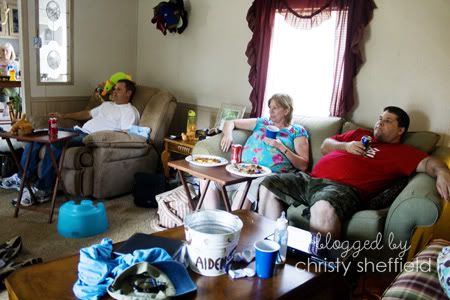 This was Sherry's last day to be pregnant because Benjamin was born the next day!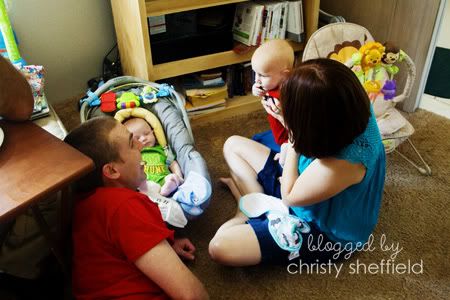 Uncle Jason and Aiden are staring each other down.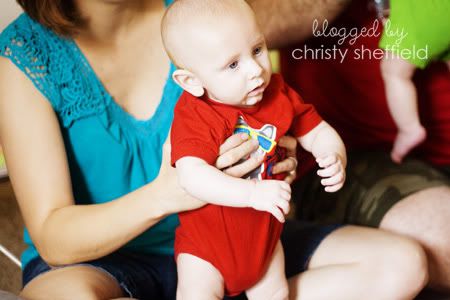 Cousin Aiden is such a cutie!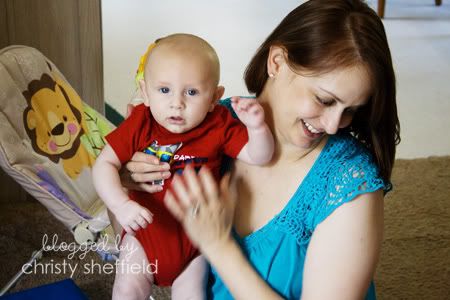 And, he was talking up a storm! I think he was excited to have another baby to talk to.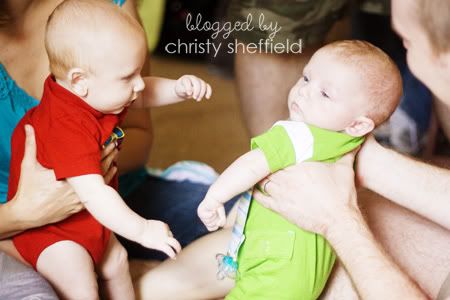 Except by this time, Hugh was tired and overstimulated. So, he kind of ignored Aiden.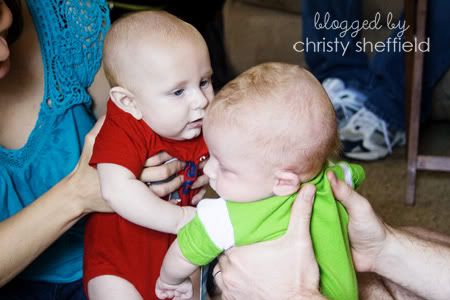 But that didn't stop Aiden from talking.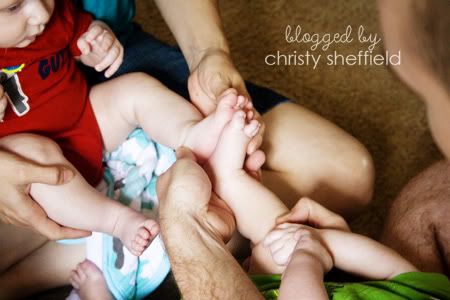 Comparing feet. Aiden is just a little bit bigger, but Hugh is determined to catch up!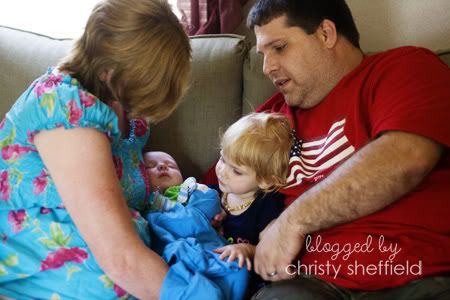 Audrey got to hold Hugh (with the assistance of Sherry and Jamie).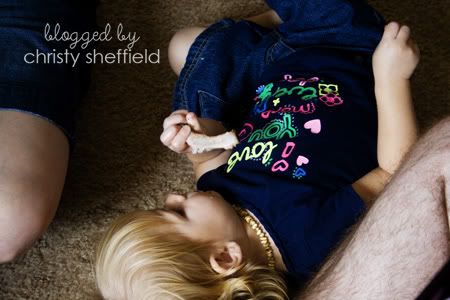 This is Audrey's last day to be an only child.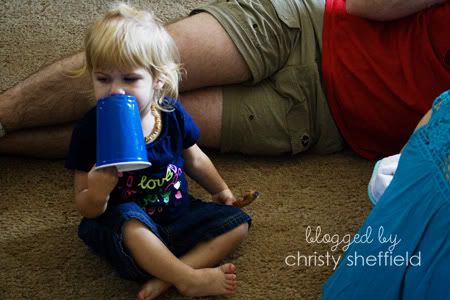 Making her daddy proud - cup in one hand, smoked rib in the other.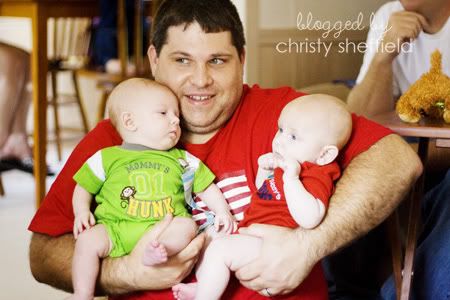 Uncle Jamie and his nephews.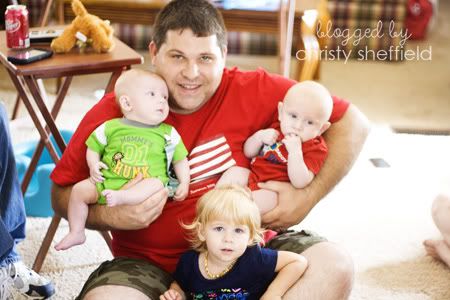 Uncle Jamie and all the kiddos.
Before heading back to Petal, we stopped by to see Nina V. Hugh had not seen his great grandmother since the day after we brought him home from the hospital. He's gotten so much bigger since then!
Great grandma, Nina V, had not seen Hugh since the day after we brought him home!
PaPaw loves his grandson!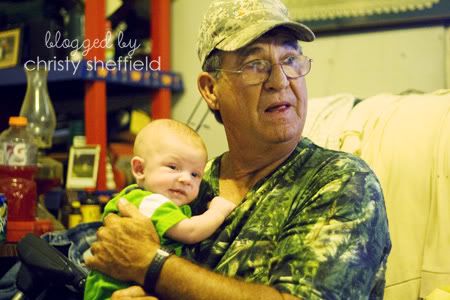 They are already planning hunting and fishing trips.
Daddy is showing off the gun that one day will be Hugh's. *Ahem - one day will be a long day from now! Mommy's orders.*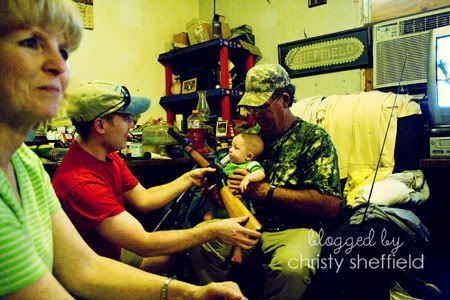 Daddy is determined. Mommy insists that Hugh will learn to walk first. LOL!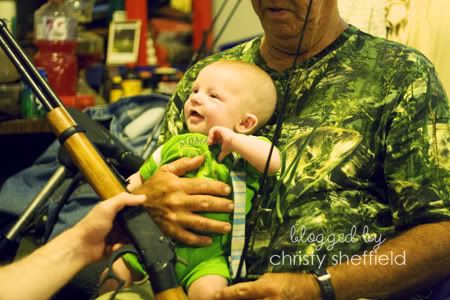 Hugh looks like he is in the middle of a song and dance.
That evening Jason and PaPaw went fishing.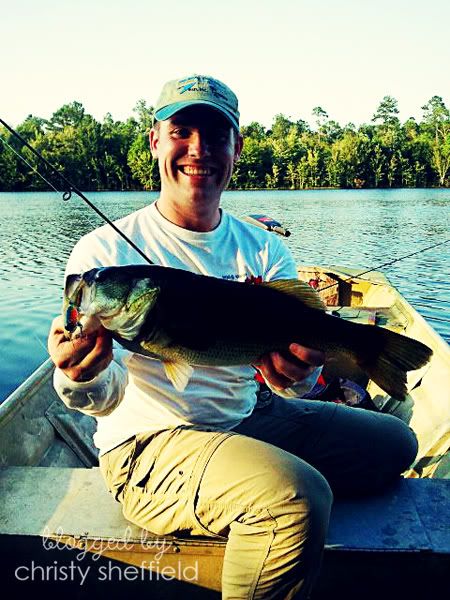 Dinnertime!
All in all, it was a great first Father's Day!